Custom orthotics may look like insoles but in fact they are bio-mechanical medical devices that are made from precise impressions of your feet.
---
THIS SERVICES ALSO AVAILABLE AT OUR SISTER LOCATIONS:   Manotick
---
When correctly prescribed and fabricated, custom orthotics correct specific foot imbalances and reduce overall stress and strain on your body by bringing your feet and lower legs back into proper alignment.
After a full biomechanics assessment, therapists here at Motion Works will perform a computerized gait analysis, using the GaitScan™ technology, in addition to taking a 3D volumetric mold of your feet.   Then these reports and your therapist's findings will be sent to The Orthotic Group's (T.O.G) lab where your custom orthotics will be made.
By correcting imbalances in your feet, custom orthotics help your body restore a natural balance and assist your body's neuromuscular system to restore normal movement patterns. They are often used in conjunction with physiotherapy treatments to assist in relieving pain from a number of conditions such as:
Plantar Fasciitis
Heel Spurs
Calluses
Bunions, Hammer toes
Pain under the balls of the feet; Metatarsalgia, Morton's neuroma
Low back pain
Hip and knee pain
Flat feet, rigid feet, high arches
Achilles tendinosis
Shin splints
Arthritis
Recurrent sports injuries
Problems with running
Tired, achy pains in children's leg, often described as "growing pains"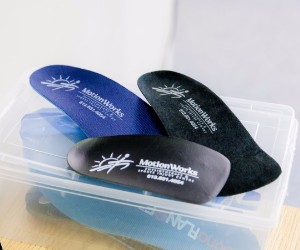 Frequently Asked Questions
How do I know if custom orthotics can help me?
If you are suffering from any of these conditions, custom orthotics may help. To determine if orthotics should be a part of your treatment plan, a full assessment is required. The physiotherapist will take a detailed medical history, both present and past that will include an in-depth look at your presenting symptoms. A full bio-mechanical assessment will be performed of your spine, lower extremities and feet to determine what may be causing your symptoms. Finally a computerized Gait Analysis will be completed using the GaitScan (TM) technology.
Following the assessment, the therapist will review the findings with you and will suggest the best treatment plan. If orthotics are part of that plan, the therapist will take a 3D volumetric mould of your feet. These moulds, the detailed GaitScan (TM) analysis and a report highlighting the bio-mechanical abnormalities found on the physical assessment will be sent to The Orthotic Group's (T.O.G) lab where your custom orthotics will be made.
What is so unique about the Gaitscan™?
GaitScan™ is a state of the art computer hardware and software system that can assist your physiotherapist in assessing your feet and analyzing your gait. As the foot is only in contact with the ground for 0.8 seconds when walking and a fraction of that when running, it is nearly impossible to see minute abnormal foot biomechanics during gait with the naked eye. The GaitScan™ force plate has thousands of tiny sensors that capture the distribution of pressure on various parts of your foot throughout the gait cycle.
The computer program displays a clear picture and provides a detailed report of the timing and pressure distribution across all the different parts of your foot when you are walking.
I wear many different shoes. Will the orthotics fit in all my shoes?
This is definitely a challenge, particularly for women who tend to have many different styles of shoes. The Orthotic Group (T.O.G.) offers many different styles of orthotics to fit various types of shoes. It is best to bring along a few samples of the types of shoes you routinely wear so that your physiotherapist can best help you decide which particular model of custom orthotic is best for you.
In addition to their regular shoe styles, T.O.G. also offers sports specific custom orthotics, for sports such as soccer, golf, skiing and skating to help you stay pain-free and perform at your best.
Sporadic use of orthotics is not helpful. To obtain the optimal benefit from your orthotics consistent use is recommended. Many people choose to purchase two different styles of orthotics to ensure improved compliancy with this treatment.
How much do custom orthotics cost?
All clients must first be assessed by a physiotherapist to determine whether or not orthotics are indicated. Our regular physiotherapy assessment fees apply to this first appointment.
Initial pair $420
Second Pair (If purchased at same time) $275
Sport Specific Orthotics (Skate, Ski, Soccer, Golf) $495
We offer the following reduced fees for children under 7 years of age (Under 60 pounds):
First Pair $300
Second Pair ( If purchased within one Year) $175
A deposit is required when ordering your orthotics. The balance is due on receipt.
NOTE: All above prices include your follow up visit with the physiotherapist when the orthotics arrive as well as any modifications that may be required to ensure a perfect fit within the first month. Modifications after one month are subject to a $50 fee.
Will my insurance cover the costs of custom orthotics?
Most Extended Health Plans will cover the costs of custom orthotics when prescribed by a medical doctor. Some insurance companies may have restrictions on which professionals can dispense your orthotics. It is best to check your individual insurance plan's requirements by contacting your health insurance plan administrator or by printing off the information on line. We are happy to assist you by providing quotes to your insurance company prior to ordering if required by your plan so that there are no surprises.
Find Our Practice at 1250 Stittsville Main Street.
MotionWorks Physiotherapy & Sports Injury Centre is conveniently located in the heart of Stittsville, serving the greater Ottawa area.