Custom orthotics may look like insoles but in fact, they are biomechanical medical devices that are made from precise impressions of your feet.
How do orthotics help?
When correctly prescribed and fabricated, custom orthotics correct specific foot imbalances and reduce overall stress and strain on your body by bringing your feet and lower legs back into proper alignment.
After a full biomechanics assessment, therapists here at MotionWorks will perform a computerized gait analysis, using the GaitScan™ technology, in addition to taking a 3D volumetric mold of your feet.   Then these reports and your therapist's findings will be sent to The Orthotic Group's (T.O.G) lab where your custom orthotics will be made.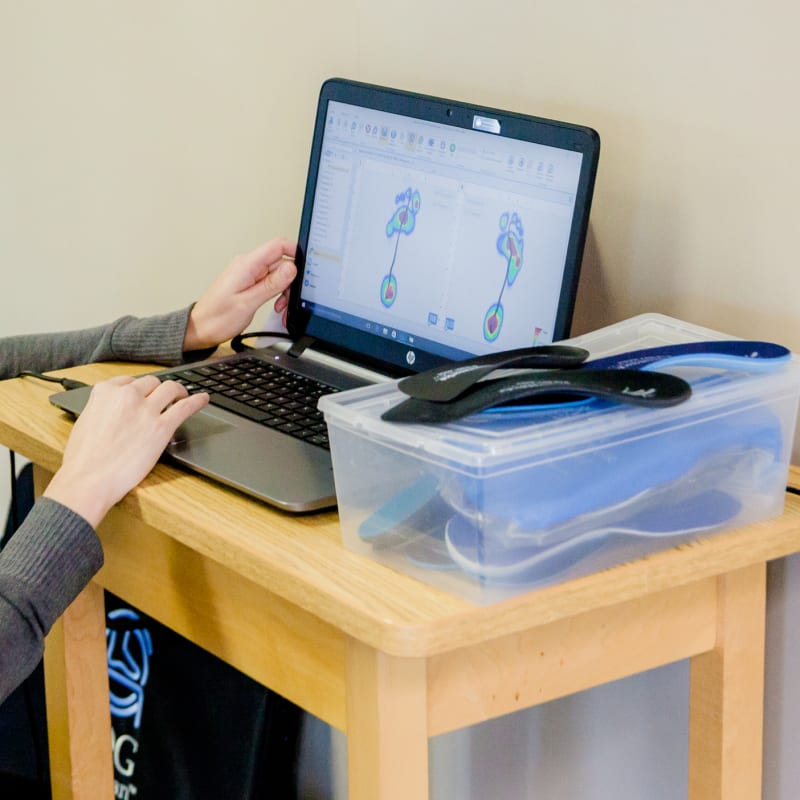 Orthotic FAQs
Read below for our most frequently asked questions about orthotics.
How do orthotics work?
By correcting imbalances in your feet, custom orthotics help your body restore a natural balance and assist your body's neuromuscular system to restore normal movement patterns.
These biomechanical devices are often used in conjunction with physiotherapy treatments to assist in relieving pain from a number of conditions such as:
Conditions Helped by Orthotics
Plantar Fasciitis
Heel Spurs
Calluses
Bunions, Hammertoes
Achilles tendinosis
Pain under the balls of the feet; Metatarsalgia, Morton's neuroma
Low back pain
Hip and knee pain
Flat feet, rigid feet, high arches
Shin splints
Arthritis
Recurrent sports injuries
Problems with running
Tired, achy pains in children's leg, often described as "growing pains"
Is your foot pain slowing you down?
If you are suffering from foot pain or discomfort, our team can help with custom orthtics. Get in touch with today!