Kavneet Kaur is an Osteopath at Motion Works Physiotherapy & Sports Injury Centre who is committed to providing quality care to patients of all ages.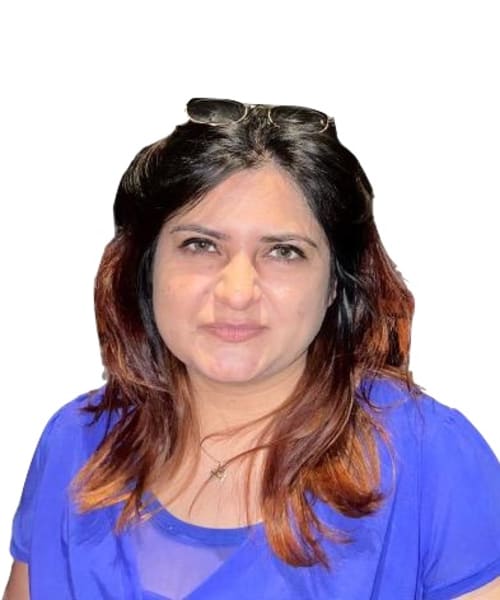 Kavneet Kaur
Osteopath
Meet Kavneet Kaur
** KAVNEET IS CURRENTLY ON MEDICAL LEAVE **
Kavneet specializes in the treatment of chronic pain from musculoskeletal conditions, visceral therapy and cranial osteopathy; concentrating her abilities in manual therapy mobilization and muscle energy techniques.
Kavneet's post-secondary education abroad led to her 2009 Bachelor's degree in Physical Therapy, followed by her Masters degree in Physical Therapy in 2012. Her journey has seen her in a variety of healthcare settings, including multidisciplinary clinics to geriatric care. Kavneet also worked in-hospital for 6 years in India, prior to her settling here in Canada, where she completed her Diploma of Osteopathic Manual Practice (DOMP). She manages to blend her background from international physiotherapy with her current abilities as Manual Osteopath, creating a unique and individualized experience through her considerable knowledge of the field and honoured skill set.
Having worked both in India and Canada, Kavneet has developed her professional experience in the treatment of individuals through all ages and stages of life. She uses both an effective, holistic approach for complex health issues, as well as a local approach for isolated acute client concerns, as needed. She regularly uses specific home exercises to support the manual therapy clinic results to extend progress while empowering clients with their own care and health. Kavneet is comfortable treating babies, children, adults, athletes, and seniors, as well as providing prenatal/postnatal support.
Kavneet is passionate about children's aid work and travels annually to deliver volunteer osteopathic care. When not working, travelling, or participating in tempting alternative medicine continuing education courses, Kavneet loves going to meditation camps and crafts classes.
Education
Bachelor of Physical Therapy (BPT) | Ludhiana, India
Masters of Physical Therapy (MPT) | Ludhiana, India
Diploma of Osteopathic Manual Practice (DOMP) | National Academy of Osteopathy, Toronto
Manual osteopathy has impacted my current practice in a fundamental way. I've been a physiotherapist for 9 years and I've never been able to treat patients in a holistic way, such as I am now, thanks to my Manual Osteopathic Therapist (MOT) program. I am now able to assess and treat the body using Osteoarticulations, myofascial remodelling and cranial osteopathy, as such I now find myself looking at the body through an entirely new lens.